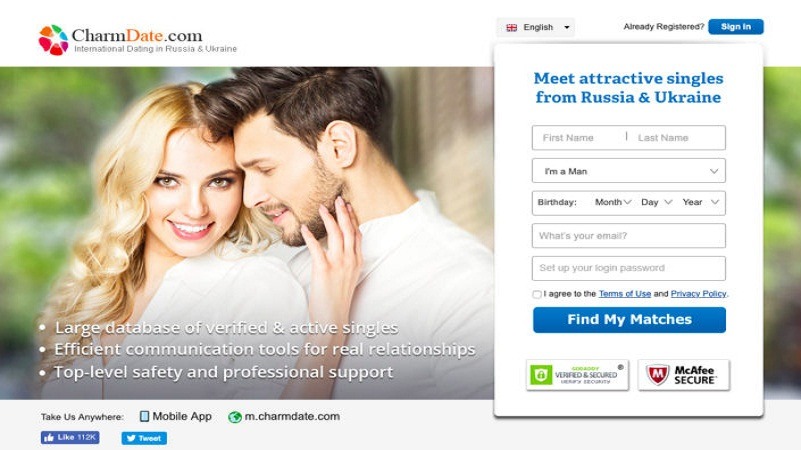 There is no doubt that CharmDate.com is one of the oldest running dating sites today. It has been around since 1998, helping millions find their ideal partners and create lasting relationships.
The site is owned by the cupid Network, a company that runs a number of niche dating sites like AsiaMe, LatamDate.com, and ChnLove.com. Just like these sites, CharmDate.Com has a specific target market. It is said to be one of the most popular online dating sites that allow men from across the world to meet and match with gorgeous Ukrainian and Russian women. It is also known for being a foreign marriage website where people find love.
Local Dating Agencies – CharmDate.com
In Charmdate's own descriptions of its services. It says that they rely on a "huge network of local dating agencies all across" Russia and Ukraine. When I dug a little bit deeper into this issue, it became apparent that this means many of the women are part of large, shady schemes to make money off of foreigners.
RELATED ARTICLE: Bumble.com
Frequently Asked Questions
How to edit profile details on CharmDate.com?
Go to the profile section and where you can edit your details. But you cannot change your name, date of birth, residence country, and current relationship status. If you want to change these you can contact with Charmdate support team.
What about online security on CharmDate.com?
Charmdate takes online security and privacy very seriously. The most innovative and cutting-edge technology to ensure registration and usage is under a high level of security and protection. Online data processing and payment systems are protected by GoDaddy and McAfee, leading authorities in online security. The processing services used by the site are verified by Visa and MasterCard SecureCode.
How to search members on CharmDate.com?
To search for a member in CharmDate, you can use the options listed below:
Quick Search
Advanced Search
Member ID
New Members - click on the Newest Members link in the photo gallery section to view members who have recently joined the site.
Members Online Now
How much do the services in CharmDate cost?
These are the list of pay-to-use services:
EMF Mail - 1 credit each read and send
Live Chat - 0.5 credits per five minutes (for text-only with one-way video chat). Emojis, stickers, and photos cost additional credits.
CamShare - 0.6 credits per minute
Call Service - 1 credit per minute
Gifts and Flowers - prices are listed on the site.
What is Call me to feature in CharmDate.com?
With this feature, you can authorize your contacts to call you. It's free to make an authorization but for the call itself, you will have to pay it. Your contact can then call you during your specified time.
What are Special Features in Charmdate?
CharmDate has a lot of innovative ways to let you communicate with people you like.
Admirer Mail
Live Chat
CamShare
Call Service
Gifts and Flowers
Virtual Gifts
What payment methods are accepted on CharmDate?
To purchase credits, you can use credit or debit cards including Visa, MasterCard, American Express, and Discover Cards. All credit card information that has been submitted on the site is encrypted and highly secured.
How do I know the members on CharmDate are real people?
All the lady profiles are verified. That means they have submitted a copy of their personal identification document with their photo.
Is CharmDate expensive?
In comparison to other providers, CharmDate is upper-moderate.
How do I delete my account on CharmDate.com?
Like other online dating sites, it is difficult to remove the account. To delete your account on CharmDate firstly you need to remove your images, profile details, etc. And then send a request to the Charmdate support team to delete your account.
Phone Number: +1 800-931-5079
Address: 71-75 Shelton Street,
London Asia, WC2H, GB
Reviews
Can't believe how bad and devious this site is
Can't believe how bad and devious this site is. I was amazed at how fast I got a response. Loads of questions from pretty ladies wanting me to reply. Every time I replied money was flying out of my account! I was oblivious to how fast my money was flying out of my bank account! One of the few times I didn't do my homework. Went straight to my bank and cancelled and blocked everything about this app! DON'T BE THAT FOOL!
It's full of hackers
This site is full of fake profiles and it sucks.. it don't load right and cost money for you to get scammed by other sites… It's full of hackers and scams.
Don't waste your time
Don't waste your time or money on this site. We really need a site where people are vetted and backgrounds are performed.
CharmDate is the most pathetic site
This is the most pathetic site I've ever been on yes there is very beautiful women there but men please pull your head out get real I've been on this site for many of years I've been researching it writing a book about scamming sites and this one is by far the worst one I've ever seen there are nothing but fakes 3/4 of them are married the other quarter or probably lesbians or something or don't want to get married
CharmDate.com is Fraud
I was writing a long letter to this Moscow woman when my letter vanished. In the letter I was mentioning one woman who would write 3 letters that were very short so she could bleed me dry. Another attractive women said she liked my photo, although I had not submitted one. Then I noticed the Moscow women's information had vanished from the "Hi" section. My brother from the FBI should know about this organization.
CharmDate is just a scam
This site is just a scam, girls are meant to keep you on site and make you pay for every mail, photo and minute. If there is any serious girls there then I did not meet any. And you will at least burn a lot of unnecessary money trying to find them
My experience has been totally negative on CharmDate
My experience has been totally negative and expensive, constantly paying to see a photo or to send an email. The chat option, be very careful, they can charge you with no notice and get money from the card.
Be careful on CharmDate
Probably paid ladies as they are eager to chat. They will tell you all you want to hear… If you tell them that you are coming to Ukraine they are positive and as the meeting day gets closer suddenly the lady gets sik or has to travel abraod with work. you can suggest this many times and the same will occur. Then there are another type of ladies who are willing to let you buy their adress, when you write them on their private email you don´t get any answer, but if you log on to the site these ladieas are the first to contact you. Be careful….
CharmDate.com is a fraud
CharmDate.com is a fraud. They use pictures from Escort Service or even from Instagram accounts and those get published as women which are searching for life partner. What a joke. Just yesterday was a person via Insta story with friends in a pool and on the same time was the person online on Charmdate. Sure of course a person (public figure with 185k follower) use the same pictures on Charmdate. Unfortunatly can't i publish here the proofs based on the guidelines from Trustpilot. Otherwise i would publish the ID on Charmdate together with the Instagram ID from the same person.
CharmDate.com is very expensive
They will never share any contact information, like name, email or address. The only goal is to keep you paying to read and write letters. It is very expensive also, especially when you get nothing.
Don't get sucked in CharmDate
This outfit is the epitome of scams. As you get into a conversation with any of these women, you will all of a sudden start seeing videos popping up that you click on and it costs $15 to open video. And as time goes on, you will notice that the return conversations are popping up in quick time, which should tell you they are pre-typed autoresponders based on your conversation. Also, you will be sucked in to a ongoing conversation and before you know it, your down $180. Don't get sucked in. Also, I noted that the same women show up with different names and different dress styles, but they are the same person. They prey on the lonely. Report this outfit to google. They should not be allowed to be online.
Fake women on CharmDate
These are fake women and the chat takes place in a call center. They probably spend half their time sending the same answers, and the other half writing fake reviews on sites like this by stringing together sentences in English they find out on the internet that make sense individually, but no sense at all when you put them together.
CharmDate.com site is not legit
CharmDate.com site is not legit !! Have you not noticed that virtually every woman in the site looks like she could be a model. Any normal dating site would have your attractive girls, and average looking girls, then girls who are not so attractive. Reading some of the other reviews, it seems a lot of guys have been sucked in and seduced by all the stunning girls. Beware!
Full of fake profiles
All these websites that are created for membership fees are full of fake profiles. It takes years to find a real woman there.
Refund policy is a rip off
Their cancellation and refund policy is a rip off. Get ready to jump through fire if you want to cancel. Obviously the reason why so many people want to leave is because this site is inefficient and useless. This site didn't work out for me and many other people according to the reviews. I suspect they actually don't aim at providing any dating services. They are focused on conning you out of your hard-earned money by overcharging you and keeping you on automatic renewals until you notice it and start struggling to stop them from taking your money with impunity.
This site is horrible
Save your money. I suspect this site is nothing but a scam. Every day I look for new matches. The pictures are listed as "New" but they are not new. They just keep sending me pictures of the same people. I wish I could get a refund. This site is horrible. It's not even worth one star.
Not happy
I have had over £209 taken out of my account and I have not authorised this. My membership says 6mths to. 21.12.21. I cannot afford this, I cannot get hold of anyone to talk to. My friend overseas was catfished by someone on this site and he still operates even though this site is aware of him. I will be taking this further. Not happy.
Total waste of time and money.
Total waste of time and money. All computer generated messages fake. No genuine people here. Just a money extracting website, stay away.
Avoid at all costs.
They try to get extra money for what other sites include in the basic package. Your preferences for potential partners are ignored unless you pay more. You do not know if your messages have been opened unless you pay. Avoid at all costs.
They are liers
As many others my account has been blocked falsely!! I have NOT violated, threatened or been abusing anyone. I had paid for a weeks premium but they are refusing to refund as I've " broken there t&c's" which I clearly haven't! They never listen but send out vague replies missing the point every time. They will not tell you the reason but refer you to terms and conditions which DO NOT say anything about not being refunded. They are liers And running a scam. ABOUD TIKE THE PLAGUE no way to run a dating site based purely on false lies!!!!
Stay away from this crap
A waste of money no one one line the women are not in my area and no one chats. I get someone likes me but no reply. Stay away from this crap
Fake profile
It uses trickery to get to you sign. My friend and I received contact from the same ?fake profile within minutes of using the app. Then surprise surprise, you can't see the messages without signing up. Then they have the 3 day cancellation period which does not apply to Australia but it does not state that….the way it's worded makes it seem like it only applies if you are a user in the United states. Help.
It took a long time
It took a long time to meet someone. Three yrs. They live in another city. Don't know if it will work out or not but he is a nice man and he loves me.
Feel like a scam
I paid my fee for a month, but am being asked more money in order to chat and reach some of my matches. Not cool, beginning to feel like a scam.
There are so many dead profiles
There are so many dead profiles, the reason for this is that they make it so hard to deactivate your profile. So you end up writing hundreds of letters and there is no response.
Spam messages
Joined this site, several days later only received scam and spam messages.
They take your money
If there is even the smallest smudge on your past record – no matter how long ago – the site will alert anyone you message and warn them against you… without you knowing what is going on. They take your money and then make it impossible to make any connections.
Not resolving my refund issue
I subscribed recently and most of the women I am chatting with are asking for money which is a first sign of a scam. I was unable to browse to women in Scandinavia and in the hope of finding them I subscribed for a six month period.I wanted to have my have refund but the customer team is not resolving my refund issue. It can not make you to browse all over the world. Just an entrapment .
Such a scam
Such a scam. Don't trust this site.
Met an amazing caring woman
Just a great site, not intrusive. And the security and verification is so good. Met an amazing caring woman. The site has good options and is not over the top expensive either.
Very friendly customer supports
I do like easy usability on the website. Also, very friendly customer supports who was very tolerant to me and my issues
I love it !!!
I must say that if you are looking for the easiest way to meet a girl
I love this place
I was a little drawn back by the bad comments, but this site proved them wrong!! I love this place and it is an awesome platform to find your loved one.
I'll be eternally grateful to this site!
I wanted to find a nice girl to settle down with and create a family. This site helped me achieve that, and I'll be eternally grateful to this site!
The platform is really good
The platform is really good. The price could be lower but nowadays you should pay for almost everything. At least you pay for the platform of the good quality. There are some pros and cons but it would be really strange if the site was too good.
Online dating is unique phenomenon.
Distance and incredible women's beauty force you to rediscovery your own abilities. Sometimes when i am chatting with girls, I discover an artist inside myself. Girls inspired me. Online dating is unique phenomenon.
Keep up the outstanding service.
This site has changed my lifestyle 100% for the better, thanks for eliminating the time consuming courtship rituals and focusing on the more sought after prerequisites in most relationships. Keep up the outstanding service.
It's not worth my self esteem
It's not worth my self esteem to waste anymore engry on this site anymore.
Don't do it!
Warning to other users and this website, if anyone ask you for money. Don't do it!
Very sad!!!
After two paid rounds on this site I find it very sad to continually receive notifications that a member(s) is interested, or has sent a messages, only to go to the site to see the mailbox sits empty and can not find the said person(s)… Very sad!!!
Charmdate is totally a scam
It's totally a scam please don't sign up or pay any penny ,,, all the accounts are fake I am gonna report them I think the best place is the internet crime center all the accounts there are fake they wanna keep chatting in order to steal your money
Creepy.Ugly.Ignore your your preferences
Creepy.Ugly.Ignore your your preferences. Blocked my account.without notifying me or explaining..I can not sign in.to remove my profile. All.they do is send me "Welcome to CharmDate"when I shoot them an email requesting my profile b removed.what a joke..Don't bother yourself..
I would give it a negative 1 star if possible
I would give it a negative 1 star if possible. I don't think it is a legit site. I think after spending the monthly fee they deny you any access unless you spend more on stupid coins. I think it's a joke.
I am very satisfied with Charmdate
I am very satisfied that the response that I got after messaging potential dates. I got attention and was not ignored or rejected like what happened to me in many other dating sites. I think this is the place for more serious dating, mature people.